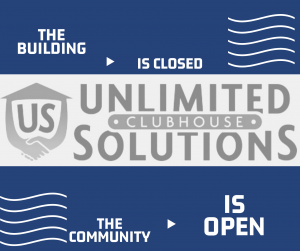 Our Clubhouse and COVID-19 Update:
We have been working with Fountain House, Clubhouse International, Clubhouse Maine, and PCHC to work to continue providing the services you get from the Clubhouse virtually and I know it has taken us some time to get more than the individual support going.
Our clubhouse vision is "we are a diverse and supportive community working side by side, creating opportunities to achieve our goals in wellness, education and employment" and for the last 7 years we have worked side by side in a physical space. But thanks to technology, in 2020, we feel we can now start to do that in a virtual space.
So, today, at a time when protecting all of our health from COVID-19 requires us to temporarily close our physical spaces and be responsible and follow CDC guidelines of staying at home and not visiting others unless absolutely necessary, Unlimited Solutions Clubhouse is committing to keeping our vision and our connection going – virtually.
Our goal: To provide a virtual gathering space for members that mimics much of the clubhouse practice, as well as provide resources and information for members and staff about how to obtain support services, etc during COVID-19.
Our plan is to evolve the program over time and for it to become an integral element of our work. We will be looking for feedback from members and staff as we go forward. We ask for your patience right now as we take these first steps as these are untested waters and sometimes difficult to navigate.