What is a Clubhouse?
A Clubhouse is a community of people who are working together to achieve a common goal – recovery from mental illness.  During the course of their participation in a Clubhouse, members gain access to opportunities to rejoin the worlds of friendships, family, employment and education, and to the services and support they may individually need to continue their recovery.
A Clubhouse provides a restorative environment for people whose lives have been severely disrupted becuase of their mental illness, and who need the support of others who are in recovery and who believe that mental illness is treatable.
The Unlimited Solutions Clubhouse features:
Work and membership as primary methods for providing individuals with increased opportunities in employment, housing, education, skill development, and social activities.
Member participation and involvement in all aspects of Clubhouse operations.
Peer support, education, self-determination, responsibility, and the opportunity to be employed in real work settings.
Openness and choice in type of work activities, choice in staff, and a right of reentry and access to all Clubhouse services.
Clubhouse Success Stories: 
We want to take a minute to brag a bit about one of our members. Willow has been a member since August 2015 and got employed in September 2016 doing filing and data entry. She started off part time and within 6 weeks was moved up to full time hours. She reports loving her job and feels so much better now that she is working. She stated "when I was applying for jobs I was able to utilize the Clubhouse and the computers to look for job searching and the staff helped me with the application process when I applied for various jobs." Willow was also able to utilize our Pay It Forward program to get some clothes needed for interviews. Despite working full time, Willow still maintains a relationship with Clubhouse but this relationship has changed and adapted to her new role working full time. Willow meets about once a month and comes in for lunch when she can and states "I still get help with maintaining my housing and moral support for being an adult, because it's not easy and everyone needs help sometimes, so I'm glad the clubhouse has been there for me and with me."
We are so proud of Willow for all that she has accomplished and so thankful that she keeps connected with us along the way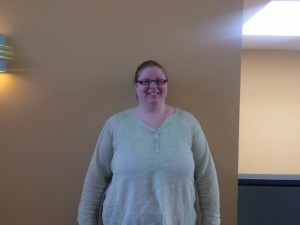 Core Clubhouse Components
Work-ordered day
The work-ordered day organizes the daily activities of the Clubhouse. The day-to-day operation of the Clubhouse is the responsibility of members and staff, who work side by side in a rehabilitative environment.
Employment programs
A main Clubhouse focus is vocational – helping members secure jobs at prevailing wages in the wider community. Transitional employment offers a highly structured opportunity for members to return to work. The Clubhouse contracts with employers for jobs that we guarantee to fill. Staff support members in the workplace until the member is comfortable and competent at that position. Supported employment assists members in applying for and acquiring jobs in the community.
Community support
Clubhouse members receive support to secure stable housing, needed medical services, and appropriate mental health care. Staff insure that all members have access to the services that best meets their individual needs.
Educational Resources
Members are assisted to complete their education – whether that is completing a GED program or working towards an advanced degree or certificate.
Outreach
Each member is a valued part of the Clubhouse. The Clubhouse reaches out to members who have not attended recently, letting them know that they have been missed and encouraging their return.
Decision making and governance
Members and staff collaborate to discuss policy issues and plan for the future of the Clubhouse.
Social and recreational programs
The Clubhouse organizes after-work-hours social and recreational events, encouraging members and staff to socialize in safe, substance free ways on evenings, weekends, and holidays.
Clubhouse Guidelines
It is the goal of our Clubhouse to provide an atmosphere with a guaranteed rights of all members are safeguarded. A guaranteed place to come, a guaranteed right to meaningful work, a guaranteed right to meaningful relationships, and a guaranteed right place to return. When a group of people share a common space, it becomes necessary to discuss ways of being in a community together, which respects each person as well as the whole group.